8.31.2021
Effective August 9, 2021, Governor Phil Murphy modified existing New Jersey Executive Orders to mandate the use of masks for students, teachers, and staff in schools in what has become Executive Order 251 (EO 251). Although the State legislature and the Governor terminated the Public Health Emergency Order set forth in Executive Order No. 103 of 2020, the legislature preserved the Governor's authority to implement the recommendations of the Center for Disease Control (CDC) to address, prevent, and limit the transmission of COVID-19 and its variants.
Although particular interest in this topic appears to arise over a disagreement concerning new mask-wearing mandates in New Jersey schools, the legal issues extend far beyond this measure alone. The broader question becomes: What legal effect do Executive Orders have, and, are there penalties for disobeying them?
New Jersey's Mask Mandate Explained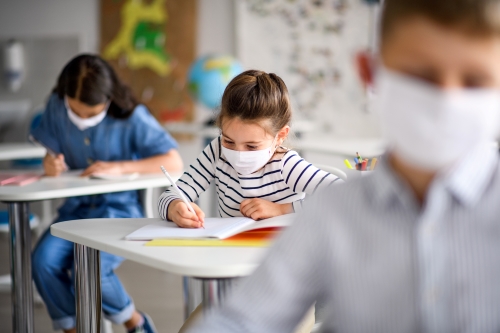 The New Jersey State legislature reconfirmed the Governor's authority to implement mitigating and precautionary steps "in specific settings," including mandating the use of masks in schools to stop the spread of the virus. EO 251 confirms that the mask mandate is necessary due to evidence of the increasing transmission of the Delta variant, and because the "CDC now recommends universal indoor masking for all teachers, staff, students, and visitors in K-12 schools, regardless of vaccination status."
Strong criticism and political pushback against the school mask mandate has been the subject of recent reporting by major media outlets. It is important to note that EO 251 allows for specific exceptions to the mask mandate and includes an extensive "factual" explanation of the history, basis and need for the mask mandate.
Given the intense debate over the need for the measure itself, the rapidly developing science concerning transmission, and the politicization of the measures that states are taking to control the spread, it is important that business owners and New Jersey residents understand the authority for the implementation of Executive Orders, and the potential consequences of violating them.
Authority to Issue Executive Orders Explained
The Governor of the State of New Jersey has been granted broad authority by the State Legislature to issue Executive Orders in the event of disasters, including public health crises. The authority to implement public health measures is pursuant to the New Jersey Civilian Defense and Disaster Control Act ("Disaster Control Act") which in the current instance has been invoked in response to the COVID-19 pandemic and continues in light of the continued infections and the onset of the delta variant.
The authority of the Governor to implement Executive Orders is set forth in N.J.S.A. App. A:9-33, in pertinent part, provides:
Appendix A - EMERGENCY AND TEMPORARY ACTS
Section App. A:9-33 - Purpose of civilian defense act and disaster control act
App. A:9-33. Purpose of civilian defense act and disaster control act
The purpose of this act is to provide for the health, safety and welfare of the people of the State of New Jersey and to aid in the prevention of damage to and the destruction of property during any emergency as herein defined by prescribing a course of conduct for the civilian population of this State during such emergency and by centralizing control of all civilian activities having to do with such emergency under the Governor and for that purpose to give to the Governor control over such resources of the State Government and of each and every political subdivision thereof as may be necessary to cope with any condition that shall arise out of such emergency and to invest the Governor with all other power convenient or necessary to effectuate such purpose.
See also N.J.S.A. App. A:9-34 and App. A:9-51 (Emergency Powers of Governor).
Criminal Penalties Possible for Violating Executive Orders
The State Legislature has established criminal penalties for individuals who violate Executive Orders. Violations are tried in the Municipal Court of the municipality where the violation has occurred. These "Disorderly Persons Offenses" impose penalties for a conviction of up to six months in jail and a fine of $1,000.00. N.J.S.A. 2C:43-3.
The authority to enforce Executive Order 251 is set forth in N.J.S.A. App. A:9-49, which, in pertinent part, provides:
App. A:9-49. Violations as disorderly conduct; penalty; prosecution, Any person who shall:
a. Commit any unauthorized or otherwise unlawful act during the threat or imminence of danger in any emergency that jeopardizes the health, welfare and safety of the people; or . . .
h. Violate any order, rule or regulation adopted by the Governor and promulgated as provider by this act; or
i. Violate any other provision of this act declared herein to be unlawful--shall be adjudged a disorderly person and shall be subject to imprisonment for a term not to exceed 6 months or shall pay a fine not to exceed $1,000.00 or to both a fine and imprisonment, in the discretion of the court.
Aiding and abetting a violation of an Executive Order issued pursuant Emergency and Temporary Acts is also a criminal violation pursuant to NJ Rev Stat § App.A:9-50, which, in pertinent part, provides that "Any person who shall knowingly aid or abet another in the violation of any provision of this act shall also be adjudged a disorderly person and punishable in the same manner as the violation aided or abetted."
Mandating the Use of Mask in School Districts
New Jersey Executive Order 251, in pertinent part, provides:
1. All public, private, and parochial preschool programs and elementary and secondary schools, including charter and renaissance schools (collectively "school districts"), must maintain a policy regarding mandatory use of face masks by staff, students, and visitors in the indoor portion of the school district premises, except in the following circumstances:
a. When doing so would inhibit the individual's health, such as when the individual is exposed to extreme heat indoors;
b. When the individual has trouble breathing, is unconscious, incapacitated, or otherwise unable to remove face masks without assistance;
c. When a student's documented medical condition or disability, as reflected in an Individualized Education Program or Educational Plan pursuant to Section 504 of the Rehabilitation Act of 1973, precludes use of a face mask;
d. When the individual is under two (2) years of age;
e. When the individual is engaged in activity that cannot physically be performed while wearing a mask, such as eating or drinking, or playing a musical instrument that would be obstructed by a face mask;
f. When the individual is engaged in high-intensity aerobic or anaerobic activity;
g. When a student is participating in high-intensity physical activities during a physical education class in a well-ventilated location and able to maintain a physical distance of six feet from all other individuals; or
h. When wearing a face mask creates an unsafe condition in which to operate equipment or execute a task.
. . .
4. It shall be the duty of every person or entity in this State or doing business in this State and of the members of the governing body and every official, employee, or agent of every political subdivision in this State and of each member of all other governmental bodies, agencies, and authorities in this State of any nature whatsoever, to cooperate fully in all matters concerning this Order, and to cooperate fully with any Administrative Orders issued pursuant to this Order.
5. No municipality, county, or any other agency or political subdivision of this State shall enact or enforce any order, rule, regulation, ordinance, or resolution which will or might in any way conflict with any of the provisions of this Order, or which will or might in any way interfere with or impede its achievement.
6. Penalties for violations of this Order may be imposed under, among other statutes, N.J.S.A. App. A:9-49 and -50.
7. This Order shall take effect on Monday, August 9, 2021 and shall remain in effect until revoked or modified by the Governor.
Simply put, local municipalities, school boards, and any State Agencies are precluded with issuing laws or policies that are contrary to EO 251 and EO 253.
Executive Order 253: Exceptions to the School Mask Mandate
As the impact of Covid variants have emerged and infection rates have increased causing an increase in hospitalizations and deaths, the Governor has continued to issue Executive Orders to address public health concerns. On August 23, 2021, the Governor issued Executive Order 253, addressing vaccine and testing mandates for teachers and covered employees in school districts. This order also clarifies the ambiguity of EO 251 concerning whether or not a parent could assert a claim of medical necessity for a child to be excused from the mask mandate. In pertinent part, EO 253 requires "individuals seeking a medical exemption from mask-wearing under Paragraphs 1(a) – (c) of that Order to produce written documentation from a medical professional to support the exemption. Self-attestations and parental attestations are not sufficient for this purpose."
Medical Exceptions Only
Therefore, parental attestations of medical necessity will not be accepted to excuse their child from the mask mandate while in school. If a parent is seeking an exception to the mask mandate, documentation from a "medical professional" will now be necessary. Although this blog post does not address the substance of Executive Order 253 and the issue of mandatory vaccines or testing, violations of EO 253 and/or aiding and abetting violations of EO 253 present the same potential for criminal liability as described above.
Legal Implications for Violating Executive Orders
The legislature has granted the Governor of the State of New Jersey the authority to issue the mask mandate in schools. A violation of Executive Order 251 by "the members of the governing body and every official, employee, or agent of every political subdivision in this State and of each member of all other governmental bodies, agencies, and authorities in this State" potentially exposes the violator to criminal prosecution.
Should an outbreak occur in any school as a result of a violation of Executive Order 251, the District and those individuals in violation and/or "aiding and abetting" may also be subject to potential civil liability in an official and/or personal capacity.
The New Jersey State Legislature has proposed "an Act granting immunity from liability to school districts, nonpublic schools, and employees for claims related to the coronavirus disease 2019" with exceptions for any "school district, nonpublic school, or person causing damage by a willful, wanton, or grossly negligent act of commission or omission." This proposed legislation (Assembly Bill 4426) introduced on July 20, 2020, is pending with the Assembly Education Committee.
Liability for Violating Executive Orders has Implications beyond Mask Mandates in School Districts
Notwithstanding one's political position on vaccines, belief as to whether or not masks are effective in preventing the spread of disease, the school mask mandate remains the law of New Jersey until or unless these Executive Orders are terminated or found to be unlawful by a Court.
Unfortunately, if pandemic conditions worsen, new public safety Executive Orders and new reforms extending beyond those imposed on school districts may result, restricting or addressing certain workers, services and commercial enterprises. Compliance is required by law and may implicate criminal liability. Business owners should be aware of the potential criminal liability created under the Disaster Control Act for violations of Executive Orders, even those they disagree with and/or impact their ability to operate their business.
Although criminal enforcement statutes of Executive Orders have historically been obscure, they are now the subject of public scrutiny. However, until the Governor and/or the legislature terminates an order or until the courts determine an Executive Order to be unlawful and unenforceable, such Orders remain the law with potential criminal penalties for violation.
If you are a business owner with a question concerning Executive Orders, please contact Eric Marcy or another member of the Wilentz Criminal Defense team.
References:
EXECUTIVE ORDER NO. 251, Effective August 9, 2021
EXECUTIVE ORDER NO. 253, Effective August 23, 2021
EXECUTIVE ORDER NO. 103, Effective March 9, 2020
EXECUTIVE ORDER NO. 244, Effective June 4, 2021
Assembly Bill No. 5820, P.L.2021, c.103, signed into law, June 4, 2021
N.J.S.A. App. A:9-33 (1953)
N.J.S.A. App. A:9-34 (1953)
N.J.S.A. App. A:9-49 (1982)
N.J.S.A. App. A:9-50 (1982)
N.J.S.A. App. A:9-51 (1982)
N.J.S.A. 2C:43-3
http://njchamber.com – A good source for Economic Recovery and Reopening Updates
BLOG DISCLAIMER
The postings on this blog were created for general informational purposes only and do not constitute legal advice or a solicitation to provide legal services. Although we attempt to ensure that the postings are complete, accurate, and current as of the time of publication, we assume no responsibility for their completeness, accuracy, or timeliness. The information in this blog is not intended to create, and receipt of it does not constitute, a lawyer-client relationship. Readers should not act upon this information without seeking professional legal counsel.
This blog may contain links to independent third party websites and services, including social media. We provide these links for your convenience, and you access them at your own risk. We have no control over and do not monitor the content or policies (including privacy policies) of these third-party websites and have no responsibility for, and no liability with respect to, their content, accuracy, or reliability. Unless expressly stated, we do not endorse any of the linked websites or any product, service, or publication referenced herein or therein. We will remove a link to any site from this blog upon request of the linked entity.
We grant permission to readers to link to this blog so long as this blog is not misrepresented. This site is not sponsored or associated with any other site unless so identified.
If you wish for Wilentz, Goldman & Spitzer, P.A., to consider representing you, please obtain contact information from the Contact Us area of this blog or go to the firm's website at www.wilentz.com. One of our lawyers will be happy to discuss the possibility of representation with you. However, the authors of Wilentz blogs are licensed only in New Jersey and/or New York and do not wish to represent anyone who viewed this site in a state where the site fails to comply with all laws and ethical rules of that state.